We leave for Italy in less than 2 weeks ~ happy dance! ~ which means it's time to get organized.  We're carry-on only travelers these days; it saves so much agony with luggage fees, bag check, waiting at baggage claim, hauling a big suitcase around a foreign country, and the worst case scenario of lost luggage.
We've traveled with only carry-on luggage for most of our trips, including one that spanned two vastly different climates, and taking 3 kids on a 2 week European vacation, (we're crazy like that), so I feel like I know what the heck I'm doing by now.
Carry-On Rules & Regs
What about all my beauty products?!
I know, right?  You will need to pare down your liquids, (including gels, creams, and pastes), to what will fit in a 1 quart see-through bag, and no item in the bag can be more than 3.4 oz.  It's totally doable though, I promise, and I am a beauty product junkie.
I use this bag for my liquids.  It's sturdier than a Ziploc bag, with gussets at the bottom to make cramming it full easier.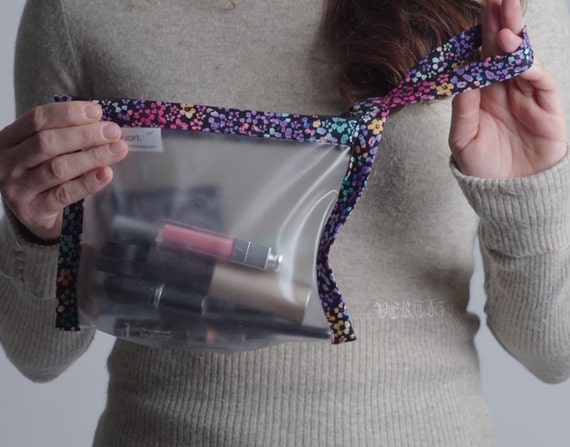 In it, I can fit the following:
The following items are usually liquids, but when I travel I use the solid versions:
Carry-On Luggage
Choose the Right Carry-On Suitcase
Before you spend any money on luggage, check the size and weight requirements of all the modes of transportation you will be taking, (especially regional/budget airlines). We ended up sizing down not only for the regional carriers, but for the limited storage space on the trains we would be taking within Europe.
Also think about portability.  Are there handles in the right places to help you lift the bag into or out of overhead compartments?  How long does the handle telescope?  (This is an issue for my very tall husband.)   Are the wheels sturdy enough to last for long distances and on uneven surfaces?  How heavy is the bag empty?
Packing Cubes, You Want Them
It might not seem like packing your clothes inside another container before putting them in your suitcase would make sense, but it does.  Just get some.  Trust me.
Selecting Your "Personal Item"
In addition to your carry-on suitcase, you probably also have a personal item allowance.  This is an item that will fit under the seat in front of you, such as a large tote or a small backpack.  (Some budget carriers only allow one carry-on bag and no personal item so check before you go.)
Get the largest personal item you can (read all the dimension allowances on your carriers of choice first).  I have a large tote that practically functions as a second piece of luggage.  In your personal item should be anything you want easy access to during your flight, as well as any valuable items (identification, financial, medication).
Here's what I pack in my tote:
Here is a post on the carry on suitcase and tote that I use.
What About a Purse?
I don't use my tote as a purse; it's too big to lug around all day.  Instead, I bring a small cross-body purse that gets packed in my suitcase until we arrive at our destination.  I like a cross-body purse that is slim profile, but just big enough to hold my phone, some mints, a compact & lip gloss, and maybe a scarf.  (Trust me, you want the smallest purse you can manage or you WILL become your family's personal Sherpa.)  My travel purses have credit card slots in a separate compartment, (I don't use my wallet with it), and the tops zip shut for security.
On most trips I use a baggallini Everyday Bag.  For fancy grown-up trips, or destinations where I want to look a little more polished, I bring this Juicy Couture cross-body purse.
 Create Your Clothing Packing List
If your trip is more than a few days, you will likely need to re-wear items more than once.  For jeans, pants, skirts and sweaters plan for 2-3 wears.  Tops, socks & undies can only be worn once before they need to be laundered.  I bring packets of Woolite to wash quick-drying items like tops, socks or lingerie in the sink.
Before I start my packing list I pick a neutral that will be my base, (such as black or navy), and match my shoes and purse to that, then choose colors that coordinate to wear with the neutral.  Every top should be able to be worn with every pair of pants.
For shoes I limit myself to 3 pairs max, and they have to be comfortable for ALL DAY WALKING.  For most trips I bring a pair of Supergas.  They're Italian sneakers that kind of look like Converse, but are more polished and comfortable.  I also pack one pair of dressy shoes that are easy to walk in, (like a wedge sandal), and maybe a more casual pair of sandals (that I would wear on the plane).  I like Born or Clark's.
Here's an example from our 2 week trip to Europe with the kids:
8 tops, 3 cardigans, 2 pair reversible black leggings, 1 pair skinny jeans, 1 maxi skirt, 1 dress, 2 scarves, 2 pair sandals and 1 pair sneakers.
Miscellaneous Items & Tips:
If you use all of the tips above, there is no reason why you can't be a carry-on only traveler, too. It takes some planning, but it's totally worth it.
Happy Travels!